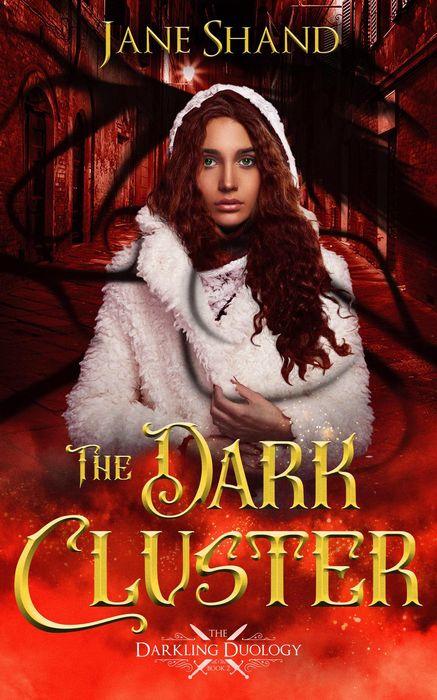 The Dark Cluster

The Darkling Duology, Book Two
by Jane Shand
YA Fantasy
Release Date: January 17, 2022
On a quest to unlock the secrets of her goddess-given powers, can one young woman defeat the ultimate evil?
Nalani is basking in her newfound contentment. But when her once-loathed ability surges back to life, the determined girl is convinced it holds the key to tracking down her long-lost father. So she's horrified when her arrival on the mainland to investigate makes her the target of discontented warmongers.
Focused on pursuing the tiny clues she's found, Nalani recruits old friends to cover dangerous new territory. Yet even as she grows closer to learning the truth, she's terrified by its growing connection to an ominous Lord lurking high in the mountains.
Can Nalani beat back the creeping malevolence before it claims everything she loves?
The Dark Cluster is the second book in The Darkling Duology of YA fantasies. If you like authentic characters, charismatic villains, and quests driven by hope, then you'll love Jane Shand's tense adventure.
Purchase Links
---
Other books in The Darkling Duology
The Shard
The Darkling Duology, Book One
Her touch is the only cure for an all-consuming corruption. When she sets out to change her fate, will she condemn her world to despair?
Nalani is certain she's cursed. Although everyone else claims her odd powers are a Gift from the goddess, the lonely young woman feels them cutting her off from those she loves. So when she's called to leave her verdant island home and travel to the mainland, she seizes the journey as an opportunity to shed her unwanted magic.
Slow to surrender her innermost secrets to those who could offer help, Nalani gradually opens her heart to the new city and its fascinating denizens. But after she learns of a strange experiment with dark consequences, even her newfound allies can't defend her against the ruthless forces she's disturbed.
Will Nalani's hunt for answers reunite a broken people or push her beyond salvation?
The Shard is the first book in The Darkling Duology of YA fantasies. If you like bold heroines, coming-of-age adventures, and lush worldbuilding, then you'll love Jane Shand's vivid escape.
Nalani closed her eyes and gasped as the salt spray stung her face. She gripped the ship's rail as it ploughed through the waves. The winter seas bullied the ship, so much rougher than on her last trip to and from the mainland. Luca's warm arm snaked around her waist and pulled her into the warmth of his body. She raised her head towards him and his lips brushed her forehead. She opened her eyes as his laugh rumbled through her.
"Everything tastes of salt!" he complained.
He grinned down at her, his eyes so much bluer than the sky over the grey and lurching sea.
"I wish we could have waited until spring," she said.
Luca nodded, saying nothing. He knew she could not wait any longer. The Gift wouldn't let her. He turned away to where the mainland hid behind waves and low-lying clouds. Nalani followed his gaze. That was where she would find her father. She was sure of it. Why else would the Gift send her back to the mainland? They had destroyed the source of Darklings, back in the summer.
"It has to be my father."
Luca's arm tightened. "We'll find him or what happened to him."
Nalani blinked; she hadn't realised she had spoken aloud. "I have to find him. I have missed him so much for all these years. He is also the only other person I am aware of who has this Gift. He will help me understand it, accept it fully and learn what it is truly capable of."
Luca's fingers tipped her head up so that she had to look him in the eyes again. He had a tiny furrow between his brows. "I understand you need to find out what happened to him. Who wouldn't? But I don't think you need him to understand your Gift. You can do that yourself."
Nalani made a sound of agreement yet didn't speak. After she had taken back her Gift in the summer and understood that she needed it to heal the Orb and stop the spread of the dark energy, she had accepted it as part of her. She no longer thought of it as a parasite or a curse. But it remained an alien part of her. Luca couldn't understand what it felt like to be controlled by a part of you. Her father did. He could help her; no one else could.
Nalani couldn't help smiling as her thoughts dwelled on Luca. She had so quickly become accustomed to his presence. Her mother, her aunt and Arifi were all fond of him. She had never doubted it, yet it had been a relief to have it confirmed. It made life easier if all those you loved were on friendly terms.
Nalani invited Arifi to come with them to the mainland, as Arifi had asked to come last time, but Nalani had not allowed it. She was not entirely surprised when Arifi, somewhat regretfully, declined.
"I wish to stay with Kahua. I am certain he is the one for me and I can't leave him to have an adventure with you. Besides, I am doing really well with Ellara's lessons. I love the silkworms and the gathering and the weaving." She shrugged. "I like the life I have."
Nalani had understood A pang of envy jolted through her chest. What must it be like to own your own destiny and to not be manipulated by your own Gift? Then her thoughts had turned to Luca, and she couldn't remain envious. Her Gift had brought her together with him. It might prod her into doing its missions, but it also allowed her to help children who no one else could.
---
About the Author
Jane Shand has always been an avid reader of fantasy and mystery and is an author of YA Fantasy.
She got hooked on fantasy after reading 'Lord of the Rings' at a young age and was determined to write books full of magic and adventure.
She lives in Hampshire, England with her family and two cheeky cats who would love to help her write.
She published her first novel, The Shard, in 2020 and her second, The Light Wielders came out Aug 2021. The Dark Cluster is her third novel, and she is now working on the brand-new Crystal Mages Trilogy.
Contact Links