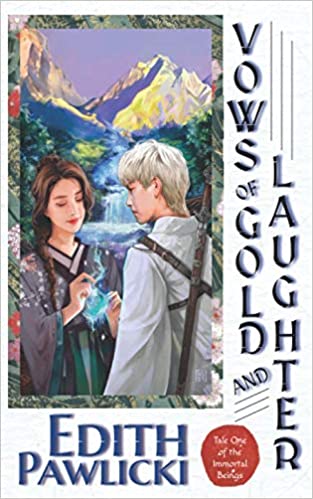 Vows of Gold and Laughter
Immortal Beings, #1
by Edith Pawlicki
The meeting of four lonely immortals will change them – and the world.
High in the Heavens, an immortal court celebrates the betrothal of Jin, Goddess of Beauty, and Xiao, God of Pleasure. But as soon as the vows are made, the Sun Emperor collapses from a death curse.
Raised away from the Sun Court after her mother's murder, Jin is called a useless goddess, but she is now the emperor's only hope. The curse's cure is locked in the Underworld, and even though the court dismisses him as a hopeless alcoholic, Xiao vows to help his betrothed find the lost key.
They hire a thief who is more interested in stealing the groom than recovering the key, and begin their search at the legendary grave of the Great Warrior – only it turns out he never died. Tens of millennia old, he is a master of everything but his own heart.
Their journey takes them from the icy peaks of the White Mountain and the lush banks of the Kuanbai River to the palace of the Sea Dragon and the halls of the Moon Deer, through court intrigue and bloody battles, power struggles and magical traps. Heaven, Earth, and the Underworld will forever celebrate their triumphs – and mourn their mistakes.
About the Author:
With twenty-six first cousins and three older siblings, I grew up playing with all of them in the woods of Connecticut. I majored in computer science and Japanese and minored in history at the University of Rochester. After graduating, I taught English in Japan before moving to the Seattle suburbs, getting married, and earning my Masters in Teaching. The birth of my twin sons in 2016 turned me into a full-time mother, and when they turned two, I resumed my hobby of writing because the characters and worlds occupying my head were keeping me awake at night! In 2021, I felt ready to share a novel, so I published Minerva followed by the first two books of the Immortal Beings series.

Instagram: @edithpawlicki
Facebook: Edith Pawlicki