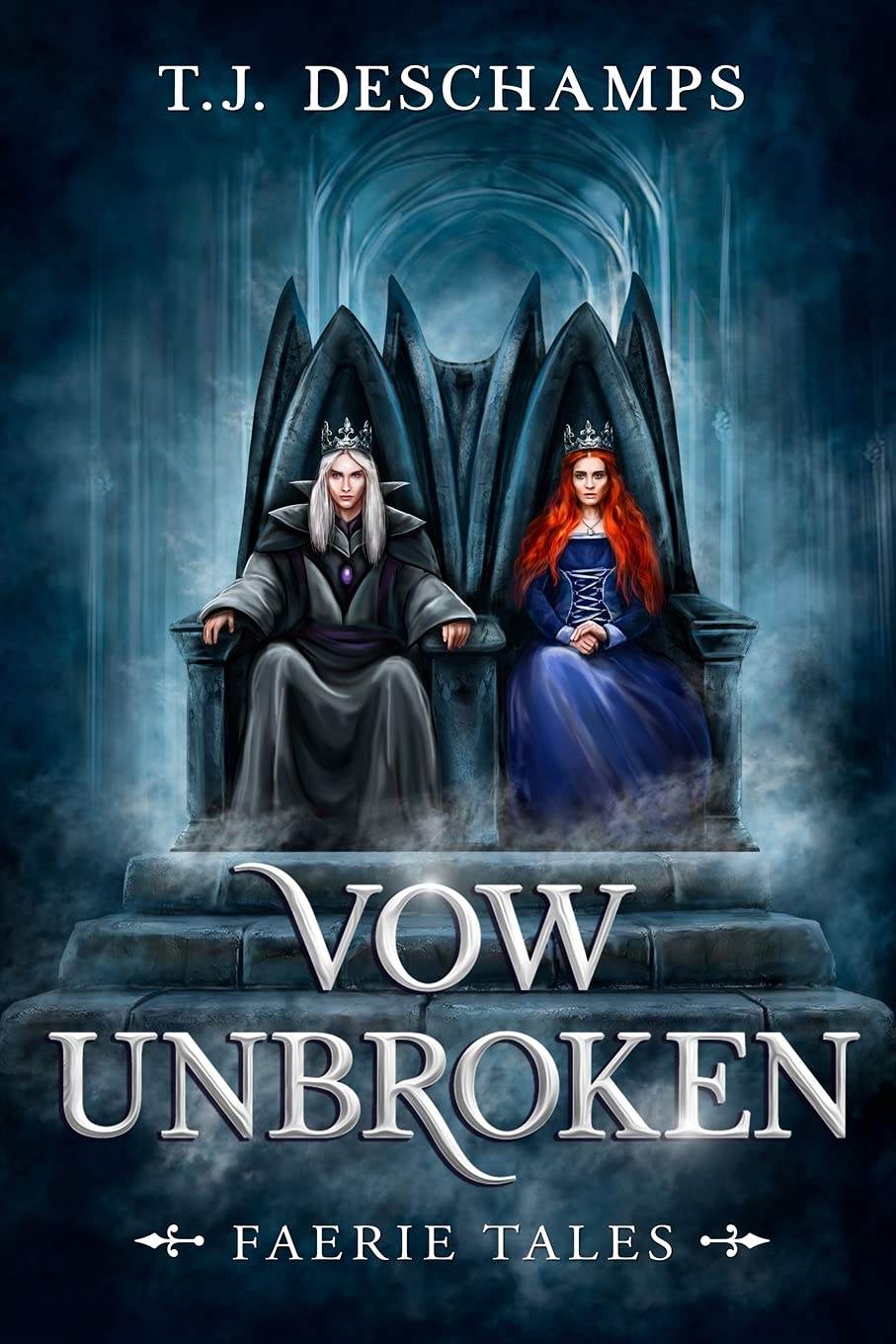 Vow Unbroken
Faerie Tales, Book 3
by T.J. Deschamps
Dark Fantasy, Epic Fantasy
Release Date: May 28, 2021
In the third book of the Faerie Tales series, the story expands. In the outset story, Fergus, Aoife, and Niamh hunt down the reincarnation of Tamlin so that they might break the curse.
On the inset story, Aoife attempts to find Cu Roi Mac Daire's weakness, so she can use it against him. She finds darker secrets await outside his castle's walls.
Fagan, now going by Fergus, takes up Tamlin's offer to train with the fae warriors so that he might gain favor with Mab. The prospect of ever seeing Aoife again is bleak until the legendary Cuchulainn, Mac Daire's sworn enemy arrives.
(This book is written to stand alone, but reading Warrior Tithe will give you the backstory of the characters.)
If you're a fan of Maas, Black, Armentrout, or Martin, you'll love this take on the fae and legends of ancient Ireland.
Purchase Link
Tam Lin: A Modern, Queer Retelling
Faerie Tales, Book One
Published: October 2020
Never break a promise to the fae…
After a fight with his fiance, Tom Lane needs a change of pace–more accurately, an escape so he can lick his wounds. He travels to Ireland in search of his Ulster-Scots roots.Though he was adopted as a child, Tom is adrift in adulthood and hopes the history of his biological family will help him understand himself and what he truly desires.
While on holiday, he meets Fergus and Aoife, sexy tour guides looking to show Tom a little more than the scenery. Their whirlwind romance sweeps him off his feet, and Tom dreams of making a life with his new lovers. But not all is merry and twee in the Emerald Isle.
Tom soon learns the truth of his past…and the history of his legendary ancestor. The stories he's heard his entire life aren't stories at all: they're warnings. But when Tom finds himself facing the Wild Hunt, it might be too late to listen.
Warrior Tithe
Faerie Tales, Book Two
Published: March 2021
Sparks fly between an unlikely pair with a spurned sorcerer hot on their trail.
Aoife, a kelpie, flees a marriage trap laid by her father, Mannan mac Lir and the sorcerer king Cu Roi mac Daire, only to fall prey to an iron snare in the mortal realm.
Fagan, a poor cottar, with nothing left to lose takes pity upon the kelpie he finds in his snare, setting her free. When the kelpie transforms into a beautiful fae maiden and offers to take him to the queen of Sidhe to repay him for his kindness, he joins her on her journey.
However, Aoife is keeping secrets.
Her betrothed Cu Roi mac Daire will not let his betrothed go so easily. His life and his kingdom depends on it.

About the Author

T.J. Deschamps likes to build worlds with words. She lives in the American Pacific Northwest with her three children, two cats, and a very friendly tortoise. In her spare time, she loves to enjoy her beautiful state, read, dance, lift weights, and might possibly be a dragon.
Contact Links