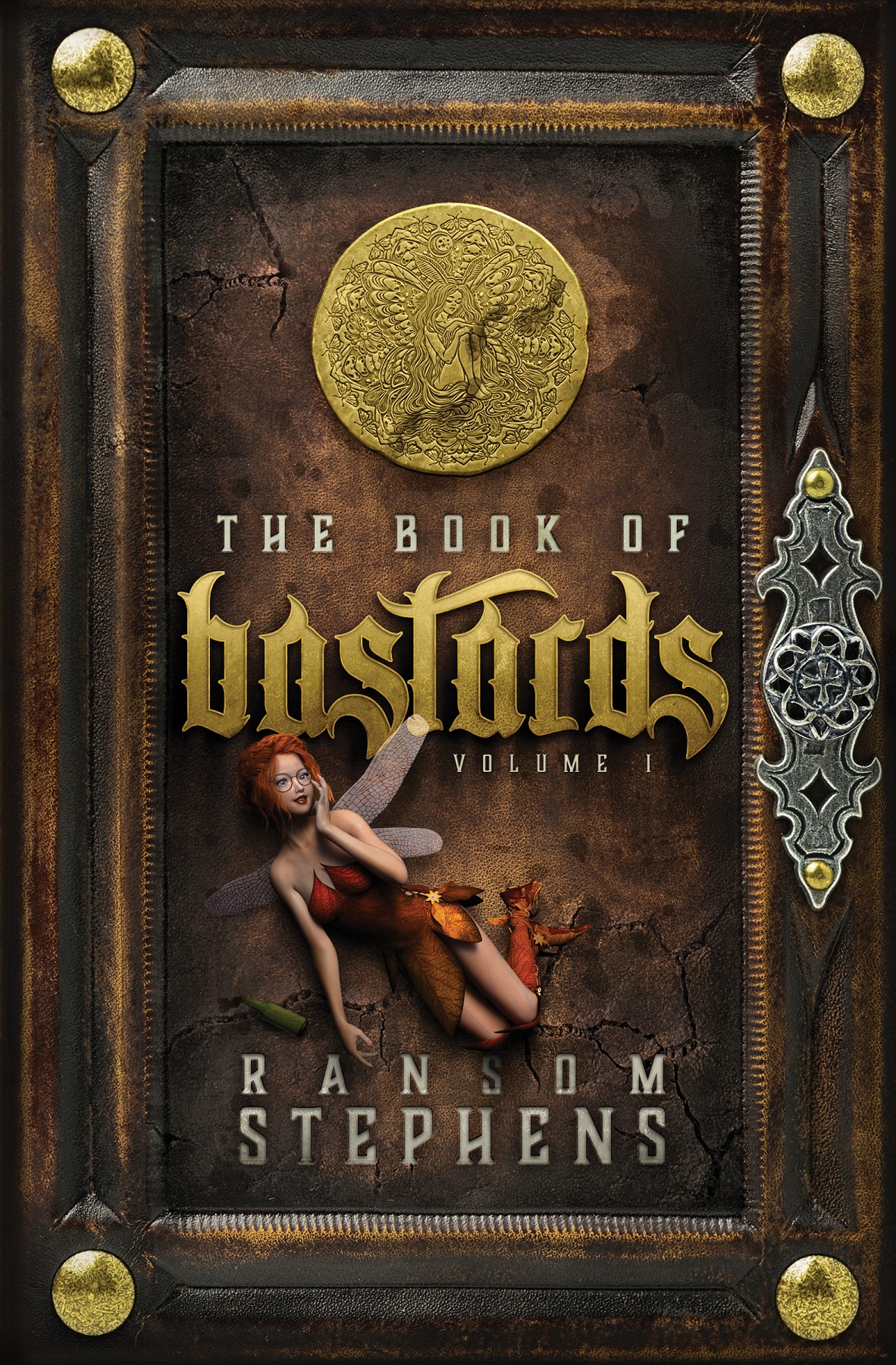 The Book of Bastards
by Ransom Stephens
Fantasy
Date Published: January 14, 2021
Publisher: The Intoxicating Page
Welcome to The Gold Piece Inn, where you can drink, gamble, and play!
Or hide.
Cursed on the day the king is assassinated, Dewey Nawton is compelled to protect the widowed queen, but protection means different things to different people (and different curses).
Kings have dictated every role Queen Dafina has ever played. Now, a halfling innkeeper assigns her the role of serving lass. But is The Gold Piece Inn just another tavern? Could it be an orphanage? … surely, it's not a brothel.
Oh yes, she's fallen from grace, but will that stop her from leading a handful of pirates and a dozen bastards to avenge her king and rescue Glandaeff's faeries, elfs, and mermaids (and merbutlers!) from a brutal tyrant?
Dewey has a secret. Dafina has a secret. The Bastards have two secrets.
Is there even a sip of moral justice in all this bawdiness?
Purchase Links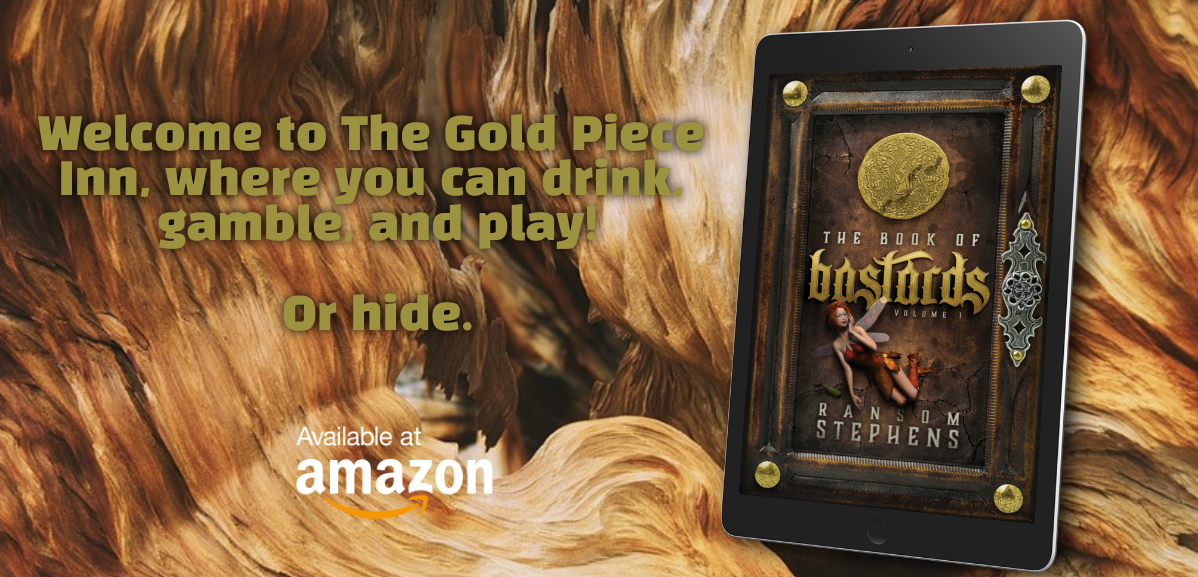 Early Reviews
"The Book of Bastards combines a riveting, intense plot of righteous vengeance with tongue-in-cheek banter that will keep you turning the page with eager anticipation. With settings that make you wish they were real, characters you can't help but cheer for, and twists that keep you guessing, Ransom Stephens has crafted an engaging tale that makes every minute of reading, time well spent. I don't often reread a book, but I think I'll make an exception. Loads of fun. Highly recommended." – Brian D Anderson, million-selling author of The Bard and the Blade
"A delightful, detailed tale about morality, being honest with yourself, and self-reflection, even when you don't like what the glass has to show. A perfect treat for lovers of rich fantasy worldbuilding, gory battles, and the kind of thoughtful, character-driven stories that make your brain whirl, your imagination dance, and your heart surge." -J.M. Frey, bestselling author of The Accidental Turn Series
Excerpt:
Daffy ran down to the wharf with scores of elfs and leprechauns. Baertha helped her board a tender. She took a seat near the stern where she could look back at Crescent Cove. Leprechauns jumped aboard and elfs took their time, stepping from the dock to the little boat in time with the rolling swells. Rustin jumped aboard and lifted her into a tight hug that reminded her of his mother. She told him it was time for her to leave and he accepted that, though he made her promise to visit.
Daffy grew up among ships in the sheltered harbors of Nantesse. Good harbors are calm like lakes, but violent ocean waves threaten the shelter of Crescent Cove. The tender climbed up the front of swells and fell down the back of them. She wondered if she'd ever get to dub Rustin a knight. A deposed queen dubbing the rightful king? No, never. And she wondered what Kaetie would become. The tender finally bounced against Avarice's bumpers. Baertha boosted her up, and she climbed the rope ladder.
Seagulls swooped over the deck. The smell of wet wood, tar, and dead fish, the sounds of sails flapping in the wind and sailors calling to each other, and the constant roll of the deck brought Daffy face to face with the reality. She was finally going home.
She went below deck to claim a hammock. The elfs stood in separate families, so motionless and silent that they seemed to be in a different world. Daffy put her things in a hammock that stretched from the base of the mizzen mast to a cleat on the underside of the deck where the roll of the ship wouldn't bother her too much. She followed cackles of laughter to the lower hold and discovered that leprechauns had claimed it. Before she made it to the bottom of the ladder, a lassrechaun, offered to cut her hair. The lassrechaun wore white tights, a green dress, and had apple-red hair. She held up huge scissors that had a transparent quality that convinced Daffy they were an illusion. She declined the haircut, and, in an instant, her short hair assembled itself into braids.
"Better, ma'am?"
Daffy made the mistake of laughing and her fingernails turned a bright shiny purple. A ladrechaun cart-wheeled past and while she was distracted, another ladrechaun reached into her empty purse. She watched a juggler, declined several marriage proposals, and sang along to a ballad about rainbows and pots of gold. By the time she heard the windlass lifting the anchor chain, the leprechauns' boundless energy had exhausted her.
She climbed back to the deck. The crew stood at their stations, holding their lines, some taut, some slack. She found Baertha and Madog at the helm, a few steps behind the ship's wheel where the pilot stood. The anchor chains went silent and Baertha issued a command. Her voice bellowed over the wind, the waves, the birds, and the constant chatter of leprechaun pranksters. For a few seconds, the canvas sails clapped in the wind, and then the sails were trimmed, and Avarice pulled forward. Daffy watched little whirlpools form off the port gunwale and saw the wake form at the stern.
When they cleared Crescent Point, Avarice keeled to port under a harsh wind and took off.
"Braided like that, you can really see the black roots, love." Baertha stood next to her. "Going home then?"
Daffy went cold and silent.
Madog stood on her other side and said, "Hard to believe that a queen has been holding court at The Gold Piece Inn."
"Harder to believe that she's been holding court with scurvy muvs the likes of us."
Daffy stepped away. The pilot's eyes stuck to her.
Baertha caught the wheel and gave it back to the pilot. "You're safe here, you have nothing but friends on this ship."
"We always wondered," Madog said. "Your accent should have given you up."
"Serving-lasses don't read and write seven languages."
Daffy said, "Are you going to turn me in?"
"Love," Baertha said, "if we were going to collect your reward, we'd have done that a year ago."
"Aerrol wanted to, the stupid farqer."
"Why didn't you?"
"You don't know much about Dewey, do you?" Madog said. "People who get on his bad side have a way of, umm, suffering."
"Naw," Baertha said. "I'd have not let them take you from me, I love you so." She let out a big hearty laugh that Daffy could feel through the deck below her feet.
"Did you know then?"
"Well, love, with that much money on your head and not being able to access it without—" Baertha exchanged a sidelong glance with Madog, "what did you call it? Right, suffering—it was easier for me to convince myself that you were just another wayward lass in Dewey's collection."
"Until Aerrol drank the usurper's bilge water."
Daffy said, "It will be nice to go home and, I assure you, you'll be welcome in my court anytime."
"Which reminds me," Baertha said, "would you prefer to bunk in the mate's cabin?" She winked. Madog laughed and walked to the bow.
Daffy smiled and batted her lashes. "A hammock among the elfs suits me fine … for tonight." She curtsied to Baertha and walked to the stern. A cloud accumulated at the knuckles of The Fist of God, and the low-pitched wail of the foghorn reached out. The roll of the ship gave her the first drowsy sign of seasickness. She sat against the gunwale and pictured Dewey sitting in his chair reading tiny messages with his Truth Faery on his shoulder. The roll kept tugging her in different directions. She got up and ran to the poop deck to unleash her last meal.
About the Author
Ransom Stephens has searched for the Holy Grail in Cornwall and Wales but settled for a cracked coffee mug. He's won several awards, but they've all been named after people he'd never heard of which made for awkward acceptance speeches. The author of four previous novels on simple, non-controversial topics like science vs religion in The God Patent, technology vs environmentalism in The Sensory Deception, oligarchy vs anarchy in The 99% Solution, and love vs money in Too Rich to Die, in his latest, The Book of Bastards, he offers readers what they really want, a story of bawdiness washed down with a sip of moral justice.
I'm a fairly accomplished scientist and technologist, all the details at https://contact.ransomstephens.com
Contact Links
Twitter: @ransomstephens
Instagram: @ransomstephens