Title: A Hundred Breaths
Author: Jean M. Grant
Narrator: Rosalind Ashford
Length: 10 hours 22 minutes
Series: The Hundred Trilogy, Book 1
Publisher: Jean M. Grant
Released: Dec. 24, 2019
Genre: Romance

Healing his heart…with her last breath.

1263, Scotland

Simon MacCoinneach's vengeance runs deep. The blade is the only way to end the bloodthirsty Nordmen's reign upon Scottish soil. His soul might be lost, but the mystical Healer he kidnaps from the isles could be the answer for his ailing mother…and his heart.

Isles-born Gwyn reluctantly agrees to a marriage alliance with this heathen Scot in return for the sanctuary of her younger brother from her abusive Norse father. Her brother's condition is beyond the scope of her Ancient power, for larger healings steal breaths of life from her own body.

As Simon and Gwyn fight to outwit her madman father and a resentful Norse betrothed, Gwyn softens Simon's heart with each merciful touch. Gwyn's Seer sister foresees a bloody battle – and an end to the Nordmen – but Simon will also die. Will Gwyn save Simon on the battlefield even if it means losing her last breath?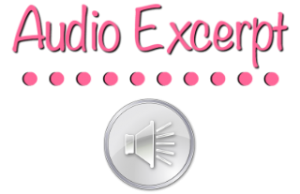 Q&A with Author Jean M. Grant
Tell us about the process of turning your book into an audiobook.

Like my corresponding print/e-book book releases, I wrote the trilogy out of order and thus I produced the audio books out of order: A Hundred Kisses (middle) came first, then the prequel A Hundred Breaths, and lastly the sequel A Hundred Lies. I was new to the audio book world, but I had my thoughts on what type of voice artist I'd want. She had to be British-accented and be able to pull-off Scottish (and later Norse). I searched around and after auditions, fell upon the lovely and talented Rosalind Ashford, who hails from the UK.
Why a series? Why with the paranormal angle?

It didn't start that way. I wrote the middle book first. And only after lots of revision and feedback before submitting to my publisher, I decided a thread of the mystical should be woven into the story. From there, the story of Deirdre's parents nagged at me, and thus came the first book/prequel. Lastly, I knew I had to carry on her legacy in her children, so then came the third book. It's not heavy on the paranormal/mystical, but it plays a role in each book and is based on lore and superstitions of the time. The scientist in me determined these traits would be inherited/passed down through generations. I also created a fictional culture of the Scottish isles from which these abilities stemmed. The books can be read out of order and as standalones, each a story in itself, but now that the trilogy is complete, reading in order may be the preferred way for many readers.
How closely did you work with your narrator before and during the recording process? Did you give them any pronunciation tips or special insight into the characters?

We worked closely, keeping in touch as the book progressed through production. I let her read the complete books prior to recording so she could formulate her own impression for accents and characterization. However, she did need to know how to pull off a proper British, more cockney/slang British, as well as Scottish brogue (she does all so well). The fun hit with A Hundred Breaths when we tossed a bit more Gaelic words in and some Norse. For the Norse, she consulted a Norwegian friend; for the Gaelic we worked with my editor, who happened to be Scottish and her mum spoke fluent Gaelic. She recorded the phrases for my narrator, Rosalind. It was a fun and professional collaboration.
Were there any real life inspirations behind your writing?

I've always loved Scotland (thank you, Outlander for sucking me in). I visited Scotland in 2008, after having already dabbled in some "practice novels." The beauty of the land and people, and its rich history inspired me. As for real life things: I lost my mom when I was 25 (cancer) so I can relate to two of my heroines. I have a soft spot for those who feel unaccepted by society or feel "different." This may be where the abilities I gave my lead characters sprung from (the "gifts" of healing, feeling emotions/auras, and premonition). During the middle ages, people were both devoutly religious (and persecuted "witches") and also deeply superstitious. I loved this mix of cultures. I loved that with each gift came a burden. I loved writing a hero/heroine that accepted their partner's abilities or disabilities.
How do you manage to avoid burn-out? What do you do to maintain your enthusiasm for writing?

I definitely burn out and get discouraged, but usually it's on the marketing and promotion end. Most authors don't realize getting into the business of publication just how much time this takes. This is where the test of perseverance pays off. It can be daunting and exhausting, but we persist for the love of writing. I don't have a set daily schedule–I prioritize and sometimes I put more time into marketing than writing, and vice versa. When writing, I shuffle around projects, keeping something fresh on my plate at all times. Repeated revisions, edits, copy edits…that can make you go nutty with fatigue. But having something else fresh waiting for you helps. I juggle around. Sometimes I take full-on breaks and do something else: hobby, some R&R…
Are you an audiobook listener? What about the audiobook format appeals to you?

Yes! The ease. I love the voices, the emotion, the feeling it bestows. I also have tired writer's eyes, so I love to hear books while driving or on walks. I fell in love with audio with Davina Porter's Outlander. I was struggling getting through those big books, and my friend suggested it, so I started on book 5 and I was hooked.
Is there a particular part of this story that you feel is more resonating in the audiobook performance than in the book format?

I would say the dialects and accents. Emotions, too. Rosalind did an astounding job on it for my series.
If you had the power to time travel, would you use it? If yes, when and where would you go?

Yes, and I am sure you can guess it based on this genre…medieval Scotland! Minus all the plagues, poverty, class-system, diseases, and bloodshed…
Author Speed Round:

Favorite drink? Coffee – any form, any time.
Favorite Ice cream? Vanilla, coffee, or B&J's Everything but the Kitchen Sink
Favorite colors? Pink and teal
Oxford Comma? Yes, always.
Beach, lake, or mountains? Mountains with a lake nearby.
Morning rooster, midday lark, or night owl? Morning rooster. (with coffee)
What would you bring on a desert island? Lip balm/chapstick. And Bear Grylls and The Rock/Dwayne Johnson. Oh and endless coffee.
Favorite places I've traveled to? New Zealand, Scotland, Guatemala, Nova Scotia, and two dozen national parks. Locally, the White Mountains (NH) and coastal Maine.

Name a few of the things you've researched for this series.

Vikings – lore/myths, and everything from historical battles, to ships and weapons, phrases, gods/goddesses. I even toured a re-created Viking Ship (called Draken Harald Hårfagre) that was built and sailed across the Atlantic. It was amazing! I asked lots of questions. To feel the boards beneath my feet and to touch the woodwork. Ahh! Everything medieval – Scotland, England, wars, customs, clothing, foods, castles, castle life/jobs, towns, maps, abbeys, plants/herbs, mythology…you name it. I also visited Scotland a decade ago. And for the final book, some of my searches involved fortune teller methodology, and sociopaths (obvious the antagonist). I love research. Historical requires a great deal of it, but contemporary does, too.

Jean has a penchant for the misunderstood be it sharks, microbes, or people (fictional and real). A scientist by training, she now spends her days as an author and champion for her children. She has five published novels in the genres of historical and contemporary romance, and women's fiction. She also writes for family and travel magazines and websites. When not writing, she enjoys tending to her flower and vegetable gardens, tackling the biggest mountains in New England with her husband, and chilling with her children, while taking snapshots of the world around her and daydreaming about the next story. Find her on jeanmgrant.com.

I am also an Audible-Approved narrator and producer, and a member of both Actors' Equity Association (AEA) and SAG-AFTRA, the unions for professional performers. (Bit of a mouthful I'm afraid.)
I was born and raised in Worcestershire, England and trained in Dramatic Arts—dance, drama and film—in conservatory programs at Madeley College and Keele University, UK. I moved to NY in part to pursue a career in theatre, in part to satisfy a strong wanderlust. Whilst I have, since then, performed onstage from Off-Broadway to regional theatre and on film and TV, I also detoured into other fields over the years.
Microphone training and a great deal of valuable voice experience was acquired as a radio presenter, and for a number of years I read Books for the Blind live on the air—great on-the-job training for audiobook narration! I have also done many voiceovers and radio commercials for national and international markets.


Plugging you into the audio community since 2016.
Sign up as a tour host here.