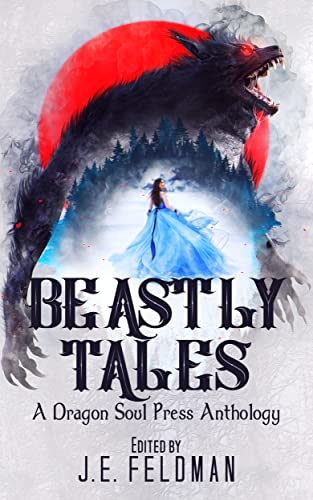 Beastly Tales
A Dragon Soul Press Anthology
Paranormal Romance
Date to be Published: February 21, 2023
Publisher: Dragon Soul Press

Monsters deserve love too…
From werewolves, vampires, and even Bigfoot, these beasts manage to find love. Whether they are able to sink their claws into that love and keep it is another story. When it comes down to it, don't judge a book by its cover. This anthology brings a mixture of what ifs and happily ever afters.
Featuring stories from T.C. Mill, A.K. Moss, Toni Mobley, Barend Nieuwstraten III, Ashley L. Hunt, Charles Kyffhausen, Lil Deville, Kelly Piner, Jess Monica, and Karen Bayly.
Graphic sexual content is included within this anthology.
The Beasts of Hank's Wood by Lil DeVille
Joe Schola III is the eighteen-year-old son of Joseph Schola Junior, a fire-and-brimstone preaching Fundamentalist televangelist. While young Joe is far less homophobic than his father, he is struggling to come to terms with his own sexual orientation. Will Joe dare accept the invitation to become part of a clan of shapeshifters, and will he accept the love being offered to him by the handsome fox shifter Lovell Azarola?
Buy Link
Preorder for $1.99
Excerpt from The Beasts of Hank's Wood
Reverend Jed didn't miss what was happening between me and her gorgeous friend. Taking my hands in hers, she smiled.
"There's nothing wrong with letting nature take its course," she advised. "Then again, you don't want to dive into deep waters too soon. I've known Lovell all his life. He's not the casual and fleeting kind."
"I'm not either," I reassured her. "The truth is, I've never been in a relationship. Because I don't know a thing about letting someone know I'm interested in them or establishing if they're interested in me, I don't want to make a mistake. Straight people have it hard too, but I think it's even harder when you're not straight. If a straight guy hits on a girl who's not interested, he probably won't get his backside handed to him, unless she has a jealous boyfriend he doesn't know about."
"The thing is, I wouldn't have said anything if I hadn't seen what was happening between you and Lovell. He definitely noticed you."
"Um…Forest didn't, you know, notice Vic, did he? 'Cause Vic's straight. Vic won't kick his butt, but I wouldn't want Forest to waste his time on a straight guy."
Reverend Jed burst out laughing.
"Forest is straight too. He simply sensed a kindred spirit in Vic."
"I guess my gay-dar is broken," I said. "'Cause he looked me up and down and I kind of thought he might be checking me out."
"He was checking to see if you were safe for his brother. The boys are very protective of each other."
"Well, I'm safe," I reassured Reverend Jed. "But maybe a fine guy like Lovell isn't going to be too keen on an inexperienced dude like me."
"He's keen," Reverend Jed said. "It's up to you if you want to encourage his interest."