Title: Skin Curse
Author: Kristin Jacques
Narrator: Amie Lyn Hornick
Length: 9 hours 13 minutes
Series: The Gate Cycle, Book 2
Publisher: The Parliament House
Released: Apr. 21, 2021
Genre: YA Fantasy

The Children of the Gate wait for the call to Rise.

Azzy Brimvine knows her brother is in the vast city of Avergard. She must find him, but time is not on their side.

In the House of Seven Smiles, Azzy struggles to understand the constraints and limits of her power. She finds the whispering voices that guided her for so long, suddenly silent. The enigmatic Lord Wallach is both a frustrating ally and a dangerous mystery, and a strange entity lurks among the household servants. The haven Azzy sought may not be as safe as she thought…but is anywhere truly safe in the Above?

The city of Avergard is full of monsters and secrets, and a dark history festers at its root. A yawning pit nestles in the house of a scheming lord, who will use Armin's dangerous gifts to raise history, and raze the city to the ground. As Azzy finds herself and her brother pulled into these machinations, she must navigate the politics and society of Avergard's brutal ruling class to save her family and friends before the Gate consumes them all.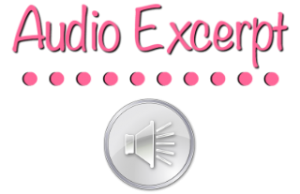 ---

---
Q&A with Author Kristin Jacques
How did you select your narrator?
I had the pleasure of working with this narrator on the first book in the series, Marrow Charm, and I was so happy she was willing to do so again!
Were there any real life inspirations behind your writing?
When I was first writing this series, I was heavily inspired by alternate history ideas and what if such and such happened. A lot of those ideas changed in the process, but a lot of the creatures in the story were inspired by popular myths and folklore, such as Skin Walkers.
How do you manage to avoid burn-out? What do you do to maintain your enthusiasm for writing?
It hasn't been easy! I take breaks. I make time for mental health days. Aside from writing I also have two kiddos with special needs and their needs supercede everything else. Sometimes I have a hectic period before a deadline but I love telling stories and that keeps me going.
Are you an audiobook listener? What about the audiobook format appeals to you?
I do like to listen to audiobooks when I can. I like the idea of hands free reading. It allows me to multitask and get things done around the house, or work out while still engaging that imaginative side of my mind.
If you had the power to time travel, would you use it? If yes, when and where would you go?
Yes. Absolutely yes. Probably not to the distant past though. Maybe to my earlier childhood so I can see the people that I've lost.
What do you say to those who view listening to audiobooks as "cheating" or as inferior to "real reading"?
That's such a ridiculous argument. The origins of storytelling were verbal. If anything, audiobooks take us back to our roots where we absorbed stories told around the hearth. It's how all our first stories were told.
How did you celebrate after finishing this novel?
I like to treat myself to something I normally don't indulge in, like donuts. Sometimes I won't watch a movie or series I'm dying to until I meet a deadline.
What gets you out of a writing slump? What about a reading slump?
Getting out of a writing slump is hard. Sometimes I let my mind do scene work, if I find myself particularly stuck, skipping around the plot to see how a specific scene will play out often helps me back track and connect the plot points. Reading slump, I actually reread a lot if I'm feeling in a slump. Sometimes revisiting old stories lets me move onto new ones.
In your opinion, what are the pros and cons of writing a stand-alone novel vs. writing a series?
I actually find stand alones harder to craft than series. Series really lets me explore character arcs and flesh out everyone I want to flesh out. Containing a story into a single work is its own craft.
What's next for you?
I am ramping up for the summer release of Poison & Poultice, a novella set in the Gate Cycle universe, and pushing through Book 3, Blood Vow, which releases February 2022.

Kristin Jacques is speculative fiction author and content creator from New England. She holds a B.A. in Creative Writing from Wells College.
Her contemporary fantasy Ragnarök Unwound was published with Sky Forest Press in January of 2019. Her award-winning dark fantasy Marrow Charm was released from Parliament House Press in October 2019. In November 2019, Marrow Charm won the Fantasy Fiction category at American Bookfest. In 2020, she signed a four-book deal with City Owl Press for the paranormal series Midnight Guardians.
When not writing, she is juggling two rambunctious boys, spoiling her cats, and catching up on a massive TBR pile. She is currently working on projects full of magic, mystery, and delight.
Amie Lyn Hornick is a professional audiobook narrator and producer with a true passion for bringing stories to life through engaging and versatile presentations. After graduating from St. Lawrence University with double majors in English and Psychology, she spent the next few years working in marketing and graphic design. For the last two years, however, she has completely immersed herself in the audiobook industry and has loved every minute of it. Based in Upstate New York, Amie spends much of her free time playing far too many video games and exploring the Adirondacks with her husband and two incredibly cute rescue dogs (who don't quite understand why their mom spends most days speaking in weird voices).


Plugging you into the audio community since 2016.
Sign up as a tour host here.