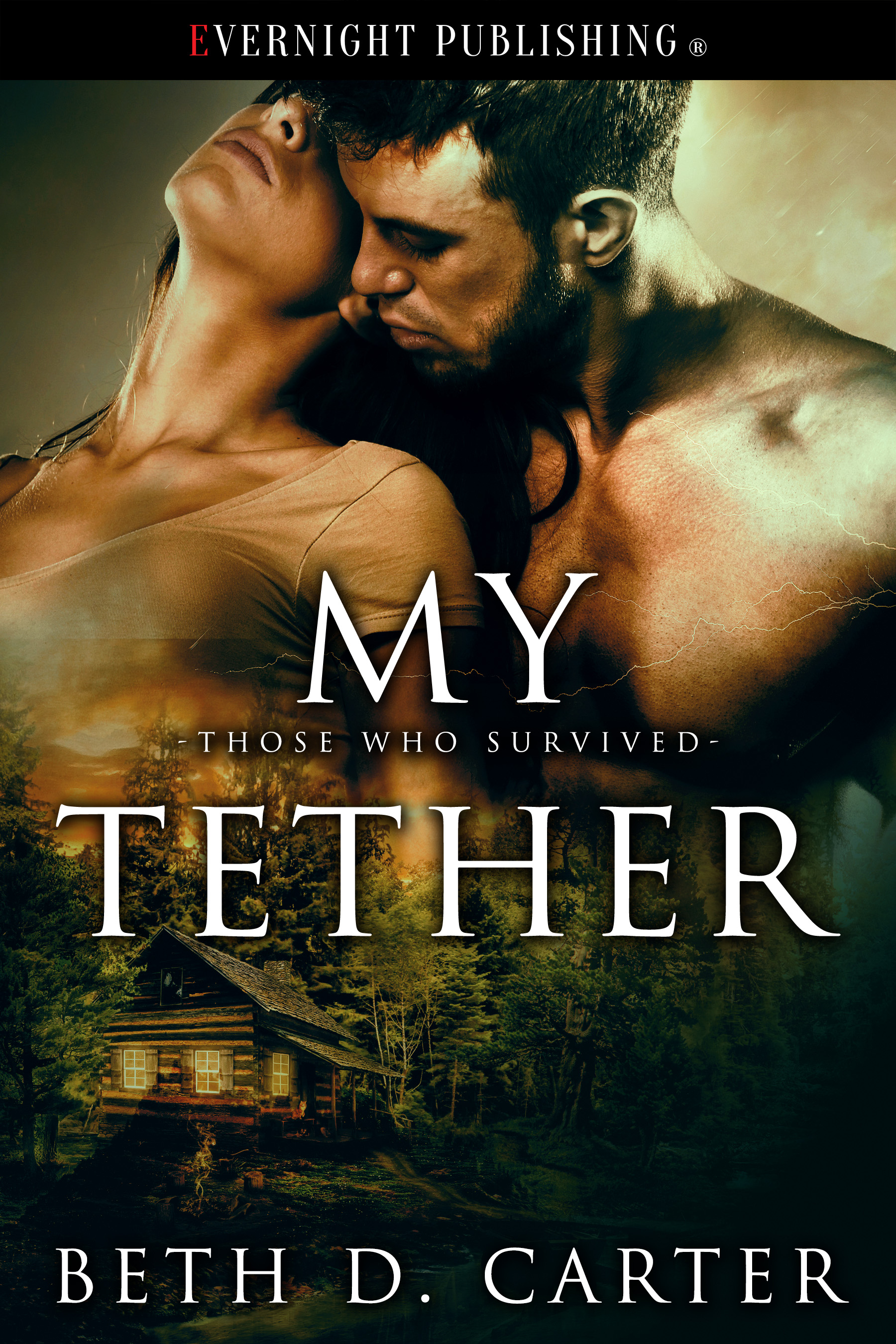 My Tether
"
Those Who Survived" series, Book 3
by Beth D. Carter
Apocalyptic Romance, Erotica Romance
Date Published: 2/19/2021
Publisher: Evernight Publishing
A virus has ravaged the human population.
Neriah Warren lives within the Amish community but not even her faith can protect the people she loves. When her mother shows signs of the fatal sickness, there is nothing left for Neriah, and she heads north to find the family she's never met, not knowing if there is anyone left to find.
Jesse Krider was incarcerated for killing one of the men who raped his sister. He was supposed to rot in prison but now that the end of the world is upon them, he's free. His plan involved vengeance, but when he's wounded, fate steps in and leads him to Neriah's healing touch.
Stuck in a blizzard, they learn to trust one another through the long Canadian winter. Neriah may be too good for him, but as each day passes, Jesse discovers she just might be the tether that saves his soul.
Purchase Links
I've seen many people die. Friends, family. My husband. Tried to help them, but … it was painful not being able to ease their suffering. And when you're hungry, well, scavenging isn't just for rodents."
"Good point," he grunted as he stood up. "I have to take a leak if you want to point me to the bathroom."
"Oh, um, sure," she mumbled, embarrassed.
She helped him off the bed, keenly aware that he stood naked. He glanced down at himself.
"Got something for me to put on?"
"Oh, yes," she squeaked, then cleared her throat. "In the bedroom is a closet full of men's clothes."
He nodded and, holding his bandaged side, headed off to the bathroom. She couldn't help but watch as he slowly walked away. Much to her shock, he didn't close the door and a moment later, she heard him urinating. Her inner voice told her to stop looking, but she couldn't seem to take her gaze off his muscular behind, as well as the tattoos on his back. So many colors and designs, and she had to admit, he fascinated her in a very improper way.
Taking a deep breath, she closed her eyes to break her fascination. She had to keep reminding herself who she was and who he was, and that he wasn't going to be around for very long.
"You okay?"
His question jolted her and she opened her eyes to have his muscular chest up close and personal. Her heartrate skyrocketed. As her gaze traveled upward, tracing over every inch of tattooed skin, she determined there was something very interesting about Jesse Krider. Something that made her skin prickle with awareness and her tummy do a funny little flip-flop.
"I found some sweatpants to wear," he said.
She swallowed thickly, not daring to look down, even though she very much wanted to do that. A shred of propriety still lingered in her conscience.
"That's, um, fine."
He took a step closer. On one hand that relieved her of the pressure urging her to look down. However, it now brought him close enough that she could reach out and touch his skin if she was so inclined. And she was fast learning that she felt so inclined to do this that she had to curl her fingers into a fist to prevent them from having a mind of their own.

About the Author

I began reading my mom's Harlequin Presents in the fifth grade, and from the first story I knew I wanted to write romance novels. I like writing about the very ordinary girl thrust into extraordinary circumstances, so my heroines will probably never be lawyers, doctors or corporate highrollers. I try to write characters who aren't cookie cutters and push myself to write complicated situations that I have no idea how to resolve, forcing me to think outside the box. I love writing characters who are real, complex and full of flaws, heroes and heroines who find redemption through love.
Contact Links