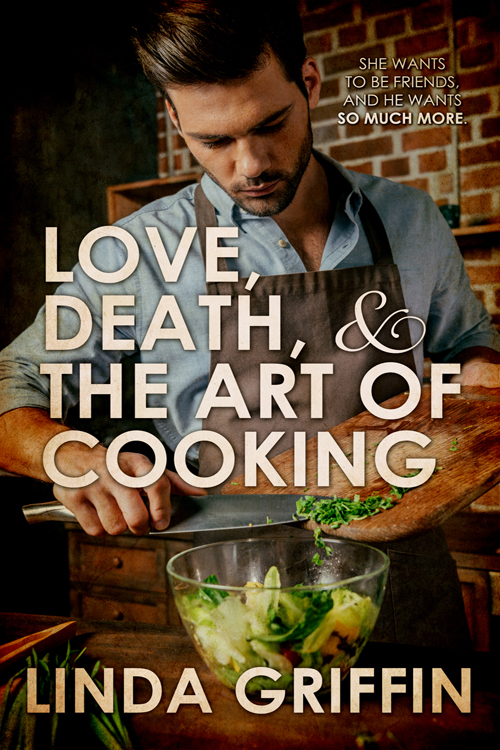 Love, Death, & the Art of Cooking
by Linda Griffin
Romantic Suspense
Date Published: August 16, 2021
Publisher: The Wild Rose Press
Software engineer Reid Lucas loves to cook and has a history of falling in love with married women. When he leaves his complicated past in Chicago for a job in California, he runs into trouble and must call a virtual stranger to bail him out of jail. Alyssa Knight, a tough street cop waiting for a church annulment from her passive-aggressive husband, is the roommate of the woman Reid calls for help, and she reluctantly provides bail for Reid. He falls for her immediately, and cooking for her is an act of love. She just wants to be friends, but they keep ending up in bed together. When his boss is murdered, Reid is a suspect—or is he the intended target?
Purchase Links
---
Excerpt
She was knowing and affectionate and so pretty he couldn't resist her. He put a hand on her knee and leaned in to kiss her. Her mouth was soft and willing, and he put down the coffee cup and took her face in both hands.
After a long, intense interval of suspended time, she pulled away and rested her forehead against his. "Oh, Reid," she said—half disapproval, half sighing acquiescence. He stroked her breast, and her breathing quickened, and he slid a hand over her nylon-clad knee and under her skirt to find bare thigh. "Don't," she said.
He paused but didn't withdraw his hand. "Is that no?" he asked.
She sighed. "Not yet," she said, but she was warning him too, not to go too far, beyond the point of no return. Only it was hard to know where that was.
---
About The Author
I retired as fiction librarian for the San Diego Public Library to spend more time on my writing. My stories have been published in numerous journals including Eclectica, Thema Literary Review, The Binnacle, Orbis, and The Nassau Review. Love, Death, and the Art of Cooking is my fourth romantic suspense novel from The Wild Rose Press, following Seventeen Days (2018), The Rebound Effect (2019), and Guilty Knowledge (2020). In addition to the three Rs—reading, writing, and research—I enjoy Scrabble, movies, visiting art museums and galleries, photography, and travel.
Contact Links
---