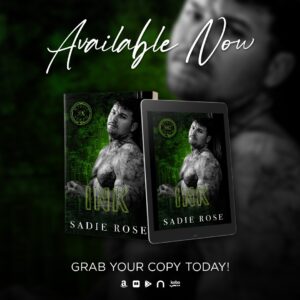 INK
Sadie Rose
Release Date: May 11
Ink is a full length interconnected standalone MC romance.
Carmen
I know what I want. I'm strong, I have a child, I know my worth. So Ink walking back into my life after ghosting me? Not in the plans. He's covered in tattoos, he's part of a Motorcycle Club- my parents don't approve. So here's the choice: follow my head- or my heart.
Ink
Mystic Venom MC member, tatted up ex-con, mechanic- all true descriptions of me. I've never cared before what people think of that- so why now? I made a mistake when I walked away a few months ago, but I'll change. I can fix this. I know what I want now: her.
Meet Sadie Rose:
Sadie Rose is an American author who pens fantasy novellas and romance novels. When she isn't writing she enjoys spending her free time reading, watching television and traveling. She lives on the west coast with her husband and son.
To find out about Sadie's upcoming releases and giveaways, sign up for her newsletter here!
To learn more about Sadie & her books, visit here!
Hosted by: