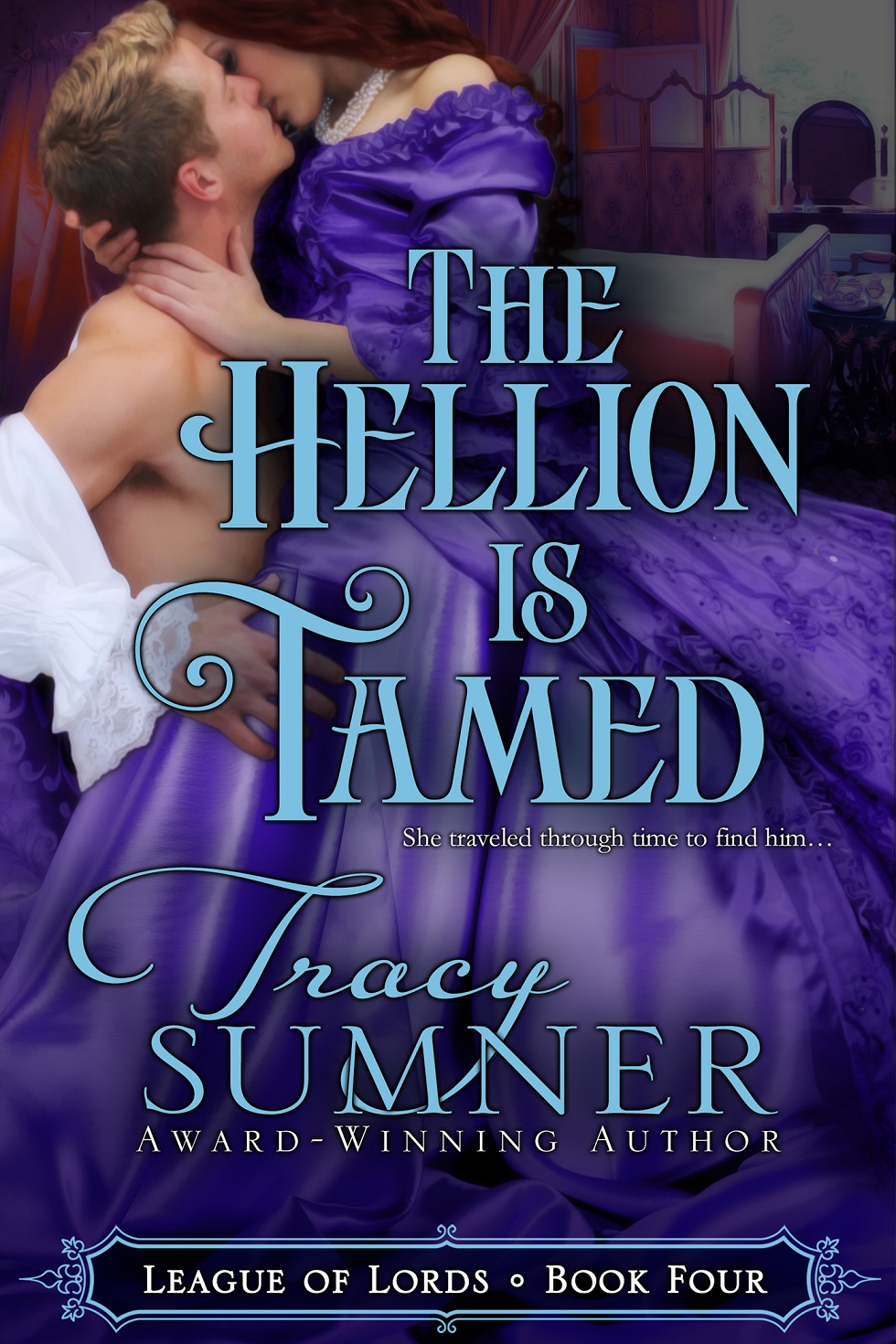 The Hellion is Tamed
League of Lords, Book 4
by Tracy Sumner
Historical Romance, Regency Romance, Paranormal Regency Romance
Release Date: June 22, 2021
Time-traveling lovers navigate the sinister streets of London—while denying their enchantment and desire. If you like THE NEVERS, this series is for you!
He's a viscount's bastard who sees more than he wants to…
Rescued from the slums and molded into a gentleman, Simon Alexander lost the love of his life to a mystical world he's always spurned. Still searching for the time traveler who stole his heart, he'll stop at nothing to find her. When he does, he finds he can't trust her—or his desire. Will he be able to tame his fear, and his hellion, once and for all?
She's a time-traveling socialite…
Transforming Emma Breslin from a poverty-stricken termagant into an aristocrat is easier than anyone imagined. Nearly overnight, she delights society as a trendsetting sensation. Torn between her obsession with the man who's never forgiven her for leaving and her fight to safeguard the magical gem she stole from him, Emma battles to survive without the man she loves. But when her life is threatened, Simon Alexander is the only person in any time she can trust.
Come along for a passionate story where passion defies time and love conquers betrayal.
Ready for Simon's story of forbidden love, time travel, and intrigue? The Hellion is Tamed is #4 in the steamy Victorian paranormal romance series Publishers Weekly calls, "A superpowered twist on Victorian romance!"
---
Other Books in the League of Lords series:
The Lady is Trouble
League of Lords, Book One
He's a viscount with a dark past who yearns for the one woman he can't have. She's a psychic firebrand! Rebellious, spurned by society and determined to change his mind.
The Rake is Taken
League of Lords, Book Two
A gorgeous psychic. An unwanted betrothal. A tantalizing compromise.
The Duke is Wicked
League of Lords, Book Three
Leagues and lives apart, Delaney and Sebastian navigate a world they're not destined for together. Can she let down her guard and learn to trust a WICKED Duke?
---
Excerpt
Although, he'd no clue what to do with her now that he'd found her.
Shouldering through the throng hovering around the hazard and vingt et un tables like London's impenetrable fog, Simon ignored the shouts of patrons deep in their cups, the grasping hands of mistresses men liked to have by their side while they squandered their time and, often, their birthright. He disregarded the impulse to steal, then sighed and paused to filch a half sovereign resting on the baize before a boozy baron who had his hand tucked inside his paramour's bodice. Sliding the coin beneath his sleeve, he waved off his guards with a rigid shake of his head that said, I have this. Like he'd handled the episode last night, though this time, he wasn't expecting a fist to his face for his trouble.
But a fist to the heart was possible.
Emmaline Breslin was, like it or not, his problem.
She had been from the moment she stepped into his life, hushed presence before a lonely boy or not.
He forced aside the pinch of emotion in his gut, ignoring the emphasis he'd unintentionally placed on the very possessive his.
Halting before the cloakroom door, Simon glanced over his shoulder at the haunt who'd followed him down the stairs. An older gent, Henry, who seemed to want nothing more than someone to occasionally talk to. "No," he whispered, "not now. Later." Henry blinked his watery green eyes once, gave a sharp salute, then continued down the unlit hallway and out of sight. Simon snicked open the door and stuck his head inside, immediately spotting the toes of the grubby boots Emma had traveled to 1882 in peeking from beneath a puddled mound of wool and linen.
Clever time traveler, yes; able spy, no.
As he closed the door gently behind him, the air shifted, the faintest hint of rosemary and lemon capturing the dimly-lit space, shoving aside the baser fragrances of brandy, sweat and cigar smoke that had come in from the hall with him.
Halting two paces from the coat rack, Simon dragged a rickety stool over with the heel of his boot and sprawled on it. Braced his elbow on his bent knee, took a silver cufflink he'd lifted from a baron two hours ago from his trouser pocket and began to rotate it between his fingers, gaslight from the sconce above his shoulder winking off the tarnished metal. Releasing a shallow breath he cared little if Emma heard him release, he settled in. Just him, the Dark Queen of the East End and a thousand glinting dust motes. She had no idea, Miss Breslin, but he was the patient Alexander. The brother with the fiercest temper perhaps…but also the one who could wait.
He'd gladly sit all night in this stinky little room if that's what it took to break her.
Luckily, he didn't have to wait long.
With a scrunch of wool and linen, her head gradually emerged from amidst the rack of coats, her muffled complaint echoing off the walls. The cufflink fell still in his hand. Her hair was a marvel, a wondrous surprise every time he got a look at it. Unbound and flowing across her shoulders. Gaslight sparked off the auburn tresses, hints of ginger like the inside of a chestnut, an unforeseen blaze in the darkness. Adding to the allure, those cobalt eyes traveling the length of him, leaving fiery eruptions in their wake.
She stepped out with an impatient huff and unladylike shake of her skirts, completely giving up her ruse. She gave a bashful tuck to her hair, placing the loose strands hanging in her face neatly behind her ears. Simon rocked back on the stool, his breath stuttering. Beneath her shabby brown cloak was a gown he'd never seen. New, created for an evening event, unfinished, the ragged hem trailing along the warped floorboards, the bustle yet to be added, the final piece of the alteration process. A plunging neckline, which he didn't need to make his life or his cock harder at the moment. The curve of her hip highlighted as she stepped forward, her long legs enchanting beneath clinging silk.
He felt the surge. Lust, umbrage, sympathy. A crushing trifecta for any man.
Silly to feel indignation when the gown was everything current style dictated. In a glorious shade he would have pegged as plum or eggplant, so opaque it was almost black, a flash of violet in the murky light.
But it wasn't the color, although that was a dazzling choice with her creamy skin and vibrant tresses.
It was the fit.
The rags he'd seen her in had been hiding a delicious body. He longed to strip that threadbare cloak from her shoulders and slide her gown in a deliberate exhibition to her feet. Then watch her step out of the puddle of material as she crossed to him.
Caught outside his fantasy, she smoothed her palm shyly down the bodice, her glorious lips curling in what could only be construed as delight. So, she liked the new clothing. Even if she protested, which Delaney had told him she'd done. Mightily.
They stared for a long moment before recognizing the pointlessness of such an endeavor. His shaft hardened a notch further, causing him to shift slightly to hide the reaction. Her eyes were wide, so damn blue, and amazingly easy to read. Layers of pain and sorrow, and like icing topping a cake, garnished with a glimmer of hope. His heart thumped once in his chest, his erection withering.
He'd never held someone's happiness this close—or been truly responsible.
In a way he wasn't sure he wanted to be responsible.
Compelling him, she stared. Right at him, right though him. He hoped like hell he'd cloaked the thoughts racing through his mind before they showed on his face. He hadn't done well hiding what being this close to her had done to his body.
Then with a daring glance, she stepped out of the shadows and into his space. Into his life. Unapologetic, fearless Emmaline. And Simon realized with a surge of some deeply held emotion that she wasn't meant to be tamed.
Not this girl.
She would run free until a man just as formidable was courageous enough to seize her.
---
About the Author
Award-winning author Tracy Sumner's storytelling career began when she picked up a historical romance on a college beach trip, and she fondly blames LaVyrle Spencer for her obsession with the genre. She's a recipient of the National Reader's Choice, and her novels have been translated into Dutch, German, Portuguese and Spanish. She lived in New York, Paris and Taipei before finding her way back to the Lowcountry of South Carolina.
When not writing sizzling love stories about feisty heroines and their temperamental-but-entirely-lovable heroes, Tracy enjoys reading, snowboarding, college football (Go Tigers!), yoga, and travel. She loves to hear from romance readers!
Contact Links