Title: Silence at the Lock
Author: Andi Cumbo-Floyd
Narrator: Aven Shore
Length: 5 hours and 14 minutes
Series: Steele Secrets, Book 3
Released: April 29, 2022
Producer: Audiobook Empire
Publisher: Andilit
Genre: Paranormal; Young Adult
I didn't expect to meet a grieving ghost or her dead mother.

But then, I didn't expect to find out my town had been the site of a lynching, a lynching that had left my friend Sarah motherless and had made her a victim of murder as well.

Their deaths aren't ancient history, though, not when one man who was a witness still holds sway in our small town. My friends and I have truth on our side, but will that be enough to keep us safe?

If only telling the truth didn't come so hard to so many.

---

---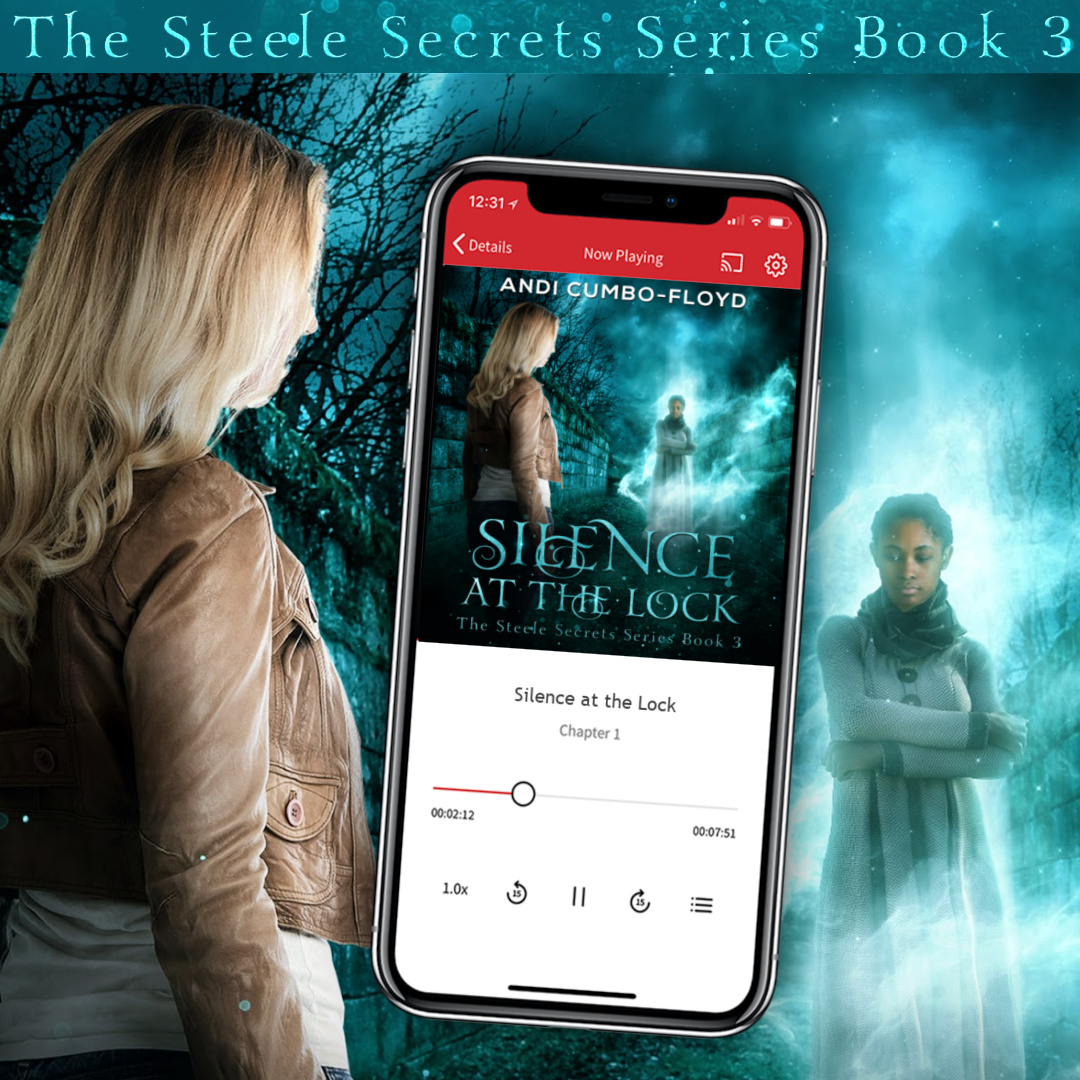 The Music of Silence at the Lock
I grew up listening to folk music – John Denver, Anne Murray, Roger Whitaker – and so when I think of the music behind the stories I write, it's the songs of folk tunes that fill my head. Songs that tell stories. Songs that come up from places and hearts.
I wrote this book as a testament to the strength of women, to the way we save each other and the world day by day, love by love. So the songs that lifted me as I wrote have that as a theme. Also, Since Silence at the Lock is set in the Blue Ridge Mountains, in a land that is run through with big rivers and deep hollows, the music that filled my mind as I wrote is the music of the people who have lived there and still live there now. Here are a few songs that you might want to check out to get a feel of Terra Linda and her people.
"We Could Fly" – Rhiannon Giddens. This song is one I quote in the book, and it's one I played over and over as I wrote because it struck me that it's one my character Beverly (Bo) might have felt a kinship to.
"Look At Miss Ohio" – Gillian Welch. The theme of this song feels so true for many young women, who need a little freedom, who need to push off against the rules a bit and find our footing, especially my character Sarah in this book.
"Glory Bound" – The Wailin' Jennys. The characters in my books and I grew up steeped in the Christian tradition, and so this song speaks to the hope that this tradition offers, all the best of it, actually.
"Down to the River To Pray"-Allison Kraus. I sang this song to my little boy every day when we crossed the river by our house, a way to introduce him to the music of our culture but also to the lamenting hopefulness of our faith. That feeling permeates this book.
"What It Don't Come Easy" – Patty Griffin. Nothing about the experiences of Sarah, Bo, or Mary in this book is easy, but Griffin's song reminds us of the light that comes around the edges of hardship.
As you can see, the voices of women singing hope spoke large to me as I wrote this book, and I hope they will speak to you, too, in my pages and in these songs, too.
---

Andi Cumbo-Floyd lives in the Southwestern Mountains of Virginia with her young son, an old dog, and a puppy who likes to eat furniture. When she's not writing she likes to cross-stitch, binge magical shows, and garden.

Aven Shore is an audiobook narrator living in her off-grid tiny house in rural Eastern Canada, surrounded by forest and chicken friends, and honeybees. She loves books so much she's listening to one almost every minute she's not narrating one (she narrates romance as Avie Paige). She narrates live on Discord with other romance narrators on the Haven server. She is longing to travel and hike in mountains again, and dreaming of sleep in the lava fields of Iceland under Northern lights again, her favorite place in the world. Her past lives include being a carpenter, firefighter, tax accountant, and competitive snowboarder.

At Audiobook Empire, audio reigns supreme, narrators are hailed as heroes, and headphones are worn with pride.
Marrying pomp and circumstance with quality you can count on, Audiobook Empire is a full-service production house that produces and promotes audiobooks with gusto.
Give your audiobook the imperial treatment by producing it with Audiobook Empire.
---


Plugging you into the audio community since 2016.
Sign up as a tour host here.