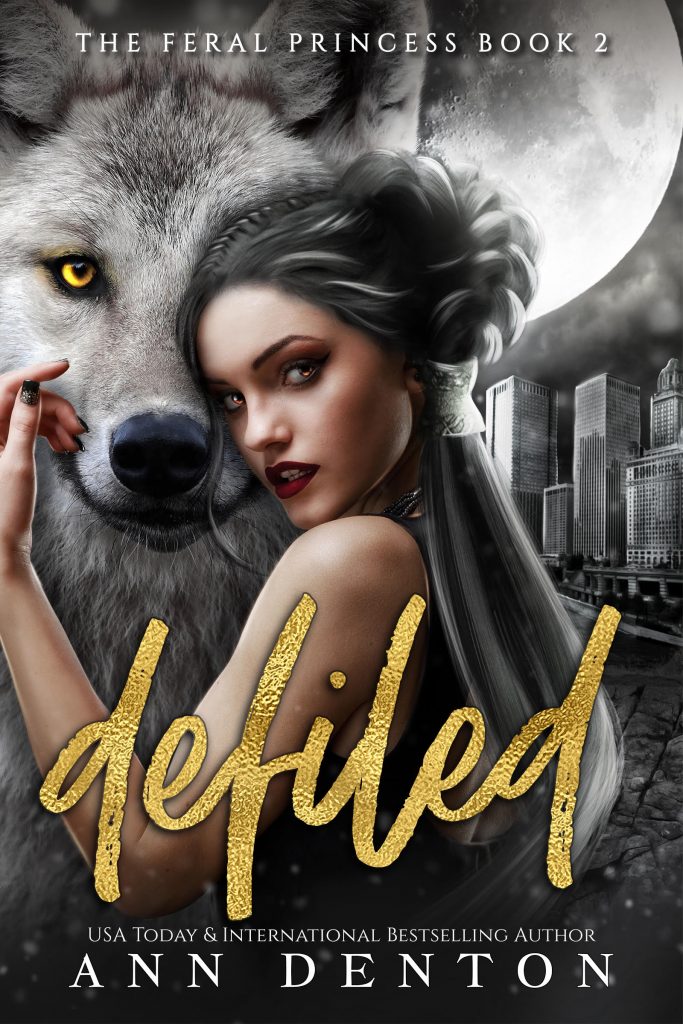 Defiled
Feral Princess, #2
by Ann Denton
Dark romance, paranormal, shifters
Elena
When Black tries to force a ring onto my finger, I bolt.
I escape the pack leader's clutches with Jonah, my best friend with benefits…who has become so much more.
But then my body betrays me. My stupid wolf shifter hormones send me spiraling into my first heat only hours after I flee.
Desire blazes through my veins until it's so wild and fierce that it takes over my reality.
It makes me hallucinate while I'm with Jonah and wish for things I don't want.
Like Black.
Black
Elena was stolen from me.
No one steals from the Lobo pack, and no one ever steals from me.
I'm going to hunt down whoever took her and punish them until they can't even scream for mercy.
The moon goddess better hide her face because I'm about to show the shifters who stole Elena that my soul can be as dark as my name.
Jonah
She picked me.
The most perfect woman in the world chose me.
I should be on cloud nine, but instead, I'm terrified.
How the hell am I going to protect her with furious shifters from two different packs hunting us down?
About the Author:
Ann Denton is an Amazon Charts bestselling author of paranormal, fantasy, and contemporary romance and urban fantasy.
She has lived in New Mexico, New Jersey, California, Oklahoma, and sometimes only lives in the alternate universe in her head. This interior world often includes amazing comebacks, scenarios in which laundry is vanquished with a wink, and an endless supply of Baby Ruth candy bars.
When forced to join reality, she enjoys spending time with her family, painting, or reading.
Website
Twitter/Instagram/Facebook: @AnnDentonAuthor