Title: Halfway Dead
Author: Terry Maggert
Narrator: Erin Spencer
Length: 7 hours 12 minutes
Series: Halfway Witchy, Book 1
Publisher: Maggert and Spencer
Released: Feb. 13, 2018
Genre: Paranormal Fantasy

Come for the waffles. Stay for the magic.

Carlie McEwan loves many things.

She loves being a witch. She loves her town of Halfway, and her Gran, and her familiar, Gus, who is 25 pounds of judgmental cat. Carlie spends her days cooking at the only real diner in town when she isn't perfecting her family magic, and life is good.

When a blond stranger sits at the diner counter and asks her to lead him into the deepest shadows of the forest, her life will change forever. She must find a mythical grove of ancient trees, but there are ghosts in the forest, and one of them cries out to Carlie across the years: Come find me.

With the help of a rugged cop who really does want to save the world, she'll fight to bring a ghost home, and deliver justice to a murderer who hides in the cool, mysterious green of a forest gone mad with magic.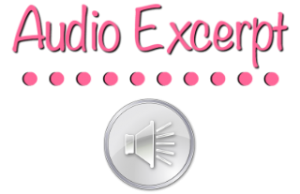 Why Waffles? Why a diner?
By Author Terry Maggert
Both of these are excellent questions. The simplest answers are—I love waffles, and I owned a restaurant. But it's more than that. Carlie is, in a sense, a collection of all the things I knew in life, and her quirky humor and good nature are me. I'm about 13 inches taller than Carlie, and I don't practice magic, but I have cats, I lived in Upstate New York, and I like the secret life of a restaurant. It feels like home to me, so writing about it comes as second nature.
Carlie embodies a lot of my favorite qualities. She's brave, and honest, and funny and a little bit weird. I think the people around her—Gran, especially—are a representation of my better angels, and when I read my own books (I listen to them quite often, just to get the feel for my own world again), I'm reminded of how much of my life is in these pages.
And then there's Wulfric.
Okay. I am not 6'7" (but my kid will be that or more, he's enormous), not a Viking (married one, though) and not a vampire (though my steaks are medium rare). What makes me laugh out loud about Wulfric every time is that he embodies the quiet suffering I endure with certain kinds of modern technology. Give me a 1967 Mustang, and I'll tear it apart and rebuild it. Give me an app on my phone that sorts grocery lists, and I'll accidentally shut down the power grid in my town. I'm like that, and so, Wulfric is like that.
As to Tammy Cincotti? I have a crush on her, and I write her as the kind of superhero that every town deserves, but with better hair and makeup.
I think, as you wander through the little town I've built, I hope you see where it came from, and I certainly hope you'll stay a while.
Now. Syrup, butter, or both? Let's eat.

Left-handed. I like dragons, coffee, waffles, running, and giraffes; order unimportant. I write the Halfway Witchy, Messenger, Starcaster and Shattered Skies series, as well as contributing to many anthologies.
If I'm not at home, then I'm on the road, and if I'm on the road, I'll be at a book event. I've written thirty-three novels and counting. I don't sleep, but you probably guessed that already. If you want me to visit your town for an event, let me know when and where. See you out there.

Erin loves audiobooks! As an actress, they have allowed her to creatively stretch by playing all kinds of characters, all kinds of ages and all kinds of accents! She voiced roles in the Audie award winning title, Illuminae and was also nominated for a Voice Arts Award in the romance category. She has narrated over 100 titles and as an audiobook director has worked on at least 100 more. She has worked for most of the major publishers and also enjoys working with indie writers who are some of the most talented writers out there! Follow her on Twitter @ErinSpencerLA or find her on Facebook, Erin Spencer Actress.


Plugging you into the audio community since 2016.
Sign up as a tour host here.