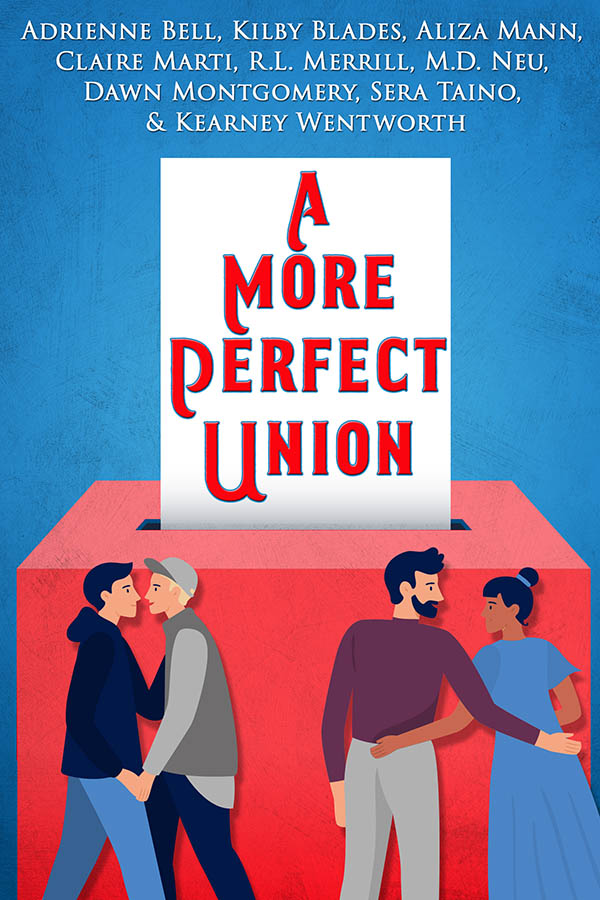 There's a new voting-themed charity anthology out (four queer stories): "A More Perfect Union." And there's a giveaway! Includes stories from Adrienne Bell, Kilby Blades, Aliza Mann, Claire Marti, R.L. Merrill, M.D. Neu, Dawn Montgomery, Sera Taino and Kearney Wentworth.
Love wins in this collection of nine all new, voting-themed romances.
A set of bite-sized romance short stories with 100% of the proceeds benefiting Fair Fight, an organization dedicated to combatting voter suppression.
From the campaign headquarters to the polls, A More Perfect Union features brand new stories from:
Adrienne Bell
Kilby Blades
Aliza Mann
Claire Marti
R.L. Merrill
M.D. Neu
Dawn Montgomery
Sera Taino
Kearney Wentworth
**This anthology will only be available for a limited time, so be sure to grab your copy today**
We hope you'll join us as love wins and democracy receives an HEA. The collection also includes stories from Adrienne Bell, Aliza Man, Claire Marti, Dawn Montgomery, and Kearney Wentworth. A diverse bunch of folks sharing their passion for social justice and fighting against voter suppression. All proceeds from the collection will go to support Fair Fight, and you can find more information at https://fairfight.com. The anthology will be available for a limited time on Amazon and Apple Books.
---
Giveaway
The authors are giving away a $25 Amazon gift card with this tour:
Direct Link: http://www.rafflecopter.com/rafl/display/b60e8d47168/?
---
Excerpt
Four of the nine stories in A More Perfect Union feature queer pairings. Here are quick bites from two of those stories:
From Sera Taíno: Oil and Vinegar
Yara wheeled the cart with soiled laundry onto the van, taking care to bend at the kneesto get the wheels over the gap between the ramp and the bumper. It was one of those infernally humid August days in Orlando that made you want to tear your clothes off right where you stood and dive into the first bucket of water you found. Yara had been doing housekeeping in this swamp ever since she got out of prison five years ago and there were a couple of rules she learned to follow the hard way. First, she never left the house without a water bottle. Florida humidity would suck all the water out of a person's body in no time if they didn't hydrate. And second, as a cleaner, she had to take care of her back if she wanted to make it to early retirement without injury.
Okay, the second one wasn't an actual rule. That was all Paulina. She made shit up all the time to get Yara to take care of herself. Like "Quieres ir diving in Tucacas? Pues, don't herniate your back." Or "Want to do dance cumbia in Caracas with me? Don't put so much salt in your sancocho."
"Ay, por favor," Yara would retort, all snotty and stank face, "We're not going to live that long."
"Oh, yes we are," Paulina always snapped back, joking but not really. "We sacrificed too much not to enjoy this life a little."
That was Paulina. While Yara was always looking back, Paulina faced the future. They were like that one Roman god, Janus. Two sides of the same dream.
Yara's phone vibrated. She pulled off her cloth mask with the company name – Y&Ps Cleaning Service – stitched into the fabric. Wiping the sweat from her brow with one of the fresh towels, she tossed it in with the rest of the laundry before slamming the doors of the cleaning van shut, pausing to admire the lettering that matched her mask. She wanted to run her hands over the newly minted shapes, but her phone vibrated again. Paulina's name flashed on the screen and she knew if she didn't hurry up and answer it, Paulina would worry.
"Don't forget what today is," Paulina said without preamble. They'd been together for four years but Yara never got tired of her raspy voice, especially when she was ordering her around. She really liked it when Paulina ordered her around.
Yara blinked, stepped out of the blinding sun and into the meager shade cast by the van. "How can I forget, Lina? You've been reminding me since last week. I'm going to do a laundry run and then meet Josie at the House when she drops off the van."
"Ok, ok. Just going down my to-do list and most of the stuff on here has to do with you."
"Good to know I'm at the top of that list," Yara teased.
"Always on top, bebe," she whispered, sending an arrow of pure, unadulterated lust barreling through Yara's body. She shifted on her feet, physically uncomfortable and unable to find any relief in the middle of this hellscape.
"Sigue con esa jodienda, and you'll have to explain to everyone why they have to walk to the voting station when their van doesn't show up." Paulina was wrong to get her going while she was standing on the side of US192, sweating her ass off and dragging a half-ton of dirty towels around in the van.
"No-no-no," Paulina responded, all the velvet and sex gone from her voice. Yara imagined Paulina waving one long, dark-brown finger in her face. "We're not making anybody walk. These women are waiting for us. For you. And we're going to show up for them."
---
From M.D. Neu: Election Night
Sammy turned the corner and rushed down the hall. She hated being late, but here she was, yet again. The elevator at the end of the corridor mocked her as the doors began to close. This week had been hell. Well, the whole election year had been hell. People fighting, families being pulled apart. Even her own family had battled it out. And now she wasn't talking to her brother, Tom. "Such an ass." She frowned. How could he support that idiot? How could anyone, especially when there was a better option. A saner option.
What the hell was wrong with people?
After the fallout between Sammy and Tom, she realized she needed to get involved. She understood if there were more people out there like her brother, then there were a lot of minds that needed changing.
Will it even make a difference? No, we have to get out the vote. People need to have their voices heard.
The elevator doors continued to close the nearer she got.
"Fuck," she muttered under her breath. "Hold the elevator! Please!" she called out hoping someone heard her. She hadn't noticed, in her haste, if someone occupied the elevator, but she remained hopeful, much like her thoughts on the election. Hopeful. Always, hopeful.
As the metal door shut right when Sammy reached out, she stopped and frowned, shaking her head.
Dammit!
Instead of the door sealing the last inch cutting off her chance of showing up for her shift upstairs somewhere in the neighborhood of being on time, there was a ding and the doors blessedly opened.
"Oh, thank Christ." A smile pulled at Sammy's lips. She was still going to be late, but at least this hurdle didn't hold her up.
"I don't know about that, but you're welcome," a soft voice said as the doors opened fully revealing a woman in her mid-thirties, with blondish brown hair falling gently over her shoulders. The black A-line skirt and blue blouse showed her curves and soft form. Her blouse opened enough to show off her perfect neck and alabaster skin. The skirt provided an amazing view of this woman's legs. Sammy loved long legs, especially when they ended in a stylish pair of heels. The warm scent of lilac and jasmine tickled Sammy's nose as she focused in on the woman's deep green eyes.
Not fully Sammy's type, but the pretty stranger wasn't far off either. There was something about a professionally dressed woman that made Sammy's heart quicken. She frowned at herself. If she didn't have a long night of phone calls, she might have felt self-conscious of her well-worn jeans and sweatshirt. When Sammy wanted to impress someone, she could, but right now she was there to support her candidate and make damn sure that they won this election. She wasn't here to find a date. Even though there were quite a few smart and passionate women who caught her eye.
---
Author Bio
Adrienne Bell
Adrienne Bell is the author of over a dozen action-packed romances including the bestselling contemporary Second Service series. Her love of story structure led her to create Plot MD, a system for crafting compelling stories. She also is the co-host of the weekly podcast The Misfit's Guide to Writing Indie Romance. Adrienne lives with her husband and sons on the far edge of the San Francisco Bay Area where she spends her downtime reading, binge watching nerdy television, and scrolling through Disneyland fan sites.
Kilby Blades
Kilby Blades is a USA Today Bestselling author of Romance and Women's Fiction. Her debut novel, Snapdragon, was a HOLT Medallion finalist, a Publisher's Weekly BookLife Prize Semi-Finalist, and an IPPY Award medalist. Kilby was honored with an RSJ Emma Award for Best Debut Author in 2018, and has been lauded by critics for "easing feminism and equality into her novels" (IndieReader) and "writing characters who complement each other like a fine wine does a good meal" (Publisher's Weekly).
Newsletter /  Amazon / Facebook
Aliza Mann
Aliza Mann is a paranormal and contemporary romance author who resides in Michigan. The goal of this anthology spoke to her desire to create a world where all people can enjoy the right and privilege of voting. She is a champion of equal rights and believes in democracy. The legacy of her grandfather, the basis for this story, lives on within her, and she could not be more thrilled to share this story with the world.
Claire Marti
Claire Marti is an award winning and USA Today Bestselling author ​of swoonworthy Contemporary Romance novels set in Southern California. After graduating from the University of Virginia with a BA in English Literature, Claire was sidetracked by other careers, including practicing law, selling software for legal publishers, and managing a non-profit animal rescue for a Hollywood actress. Finally, Claire followed her heart and now focuses on two of her true passions: writing romance and teaching yoga. She's thrilled to share her commitment to equality and justice for all in the A More Perfect Union Anthology.
R.L. Merrill
R.L. Merrill brings you stories of Hope, Love, and Rock 'n' Roll featuring quirky and relatable characters. Whether she's writing contemporary, paranormal, or supernatural, she loves to give readers a shiver with compelling stories that will stay with you long after. You can find her connecting with readers on social media, educating America's youth, raising two brilliant teenagers, writing horror-infused music reviews for HorrorAddicts.net, or headbanging at a rock show near her home in the San Francisco Bay Area! Stay Tuned for more Rock 'n' Romance.
M.D. Neu
M.D. Neu is an award winning gay author who writes epic Sci Fi, Fantasy, and Paranormal stories that reflect our diverse community. When not writing M.D. Neu works for a non-profit and travels with his husband of twenty years.
Dawn Montgomery
USA Today bestselling author Dawn Montgomery loves to write almost as much as she loves to read. She has traveled the world twice over. While her days were filled with long hours and hard work, her nights were left for dark, lustful fantasies in and out of strange hotels and cities. Alaska and Texas are the places she calls home. She recently moved from the frigid North to Texas with her family and neurotic dog. It was tragic to leave behind the moose and bear for wide open plains and sexy cowboys.
Sera Taíno
Sera Taíno writes Latinx romances exploring the joy of love in the context of community and family in all its rich diversity. She was selected for the Harlequin Romance Includes You Mentorship, an initiative launched in 2019 to reach out to diverse communities of writers and bring more own voices stories to romance readers. Her debut novel is slated to be published with Harlequin's Special Edition Line in Fall, 2021. When she is not writing, she can usually be found teaching, traveling, or wrangling her family.
Kearney Wentworth
Kearney Wentworth writes about her passions: music, romance, travel, sports, libraries, hotties and Blerds. The first book in her "Highland Havoc Rugby Club" series is out on submission and more short stories are in the queue.