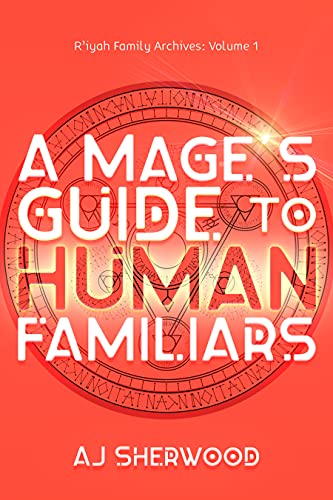 A Mage's Guide to Human Familiars
Series: R'iyah Family Archives: Volume Book 1
by AJ Sherwood
Genre: M/M/M Fantasy/Romance
Taglines:
What do you do when one human familiar isn't enough? Call in a second.
One mage, two familiars, a world of trouble.
Blurb:
One mage, Bel Adams – needs a familiar, gun shy about being rejected by one again.
One familiar, Nico di Rossi – Army Ranger, needs a change of pace and a new purpose in life.
Plus one familiar, Garen Delarosa – Secret Service, needs his ex lover Nico back.
One second chance – all for the taking.


About the Author:
AJ Sherwood believes in happily ever afters, magic, dragons, good men, and dark chocolate. She often dreams at night of delectable men doing sexy things with each other. In between writing multiple books (often at the same time) she pets her cats, plays with her dogs, and attempts insane things like aerial yoga.
She currently resides in Michigan with aforementioned dogs and cats. Being in snow country gives her the excuse to stay inside and watch bl dramas, which suit her perfectly.